A child custody attorney in Fontana CA can help you reach the agreements that are best for your kids.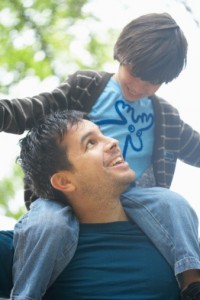 Unfortunately, sometimes when parents are embroiled in a divorce or other dispute with a co-parent, they forget to look out for the best interests of their kids and start acting selfishly, denying kids contact with the co-parent or other relatives out of spite. With help from a child custody attorney in Fontana CA, you can seek fair and appropriate access to the kids in your life whether you are a:
Divorced parent
Unwed parent
Grandparent
Stepparent
How to Secure a Custody & Visitation Order
If you get along with your co-parent and you can both agree on what is best for your kids, you can make your own custody and visitation agreements. However, to turn these agreements into court orders, which allows for violations to be enforced by the police or the court, you need to submit the agreement to a judge for approval. A child custody attorney in Fontana CA can help you do this.
Parents who cannot decide on how to split custody and visitation, as well as grandparents whose rights are being denied, may need to go through mediation with Family Court Services or have a judge settle the issue for them. Before entering mediations or going before a judge, you will definitely want to get advice about your legal rights and responsibilities from a child custody attorney in Fontana CA.
Keeping Agreements Fair & Relevant
As kids grow and parents' situations change, child custody and visitation arrangements may become outdated. To change your agreements, you will need to consult a child custody attorney in Fontana CA. Your attorney can advise you of the strength of your argument for a change and file the necessary documentation. Some possible scenarios include:
Terminating physical custody for a parent that has developed a drug problem
Extending the agreement beyond a child's 18th birthday to provide for a special needs child
Including a grandparent or other relative in the visitation schedule
Remember, the guiding principle in any modification will always be to provide the arrangement that is in the best interests of the child.
Why Choose Attorney Howell as Your Child Custody Attorney in Fontana CA
Torrence L. Howell has been practicing family law since 1995, and in that time he has helped countless families successfully navigate the family court system. You can trust Attorney Howell to treat your case as a priority, ensure you receive accurate legal advice about your position, and prepare a strong case for achieving the outcome that is best for your kids.
If you would like to meet Attorney Howell and learn more about how he can help as your child custody attorney in Fontana CA, please call us at (909) 920-0908. We'll set up a free initial consultation for a time that is convenient for you.