A child custody attorney in La Verne CA can help you reach the agreements that are best for your kids.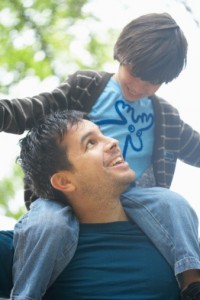 Having strong relationships with the adults who love them is essential for the well-being of any child. California law helps to preserve and strengthen these important relationships with a variety of types of child custody and visitation orders. With help from a child custody attorney in La Verne CA, you can seek fair and appropriate access to the kids in your life whether you are a:
Divorced parent
Unwed parent
Grandparent
Stepparent
How to Secure a Custody & Visitation Order
Parents do not need to go to court to make a custody and visitation agreement if they can agree on what is best for their kids. However, if you want your agreement to be binding and enforceable by the court, you need to hire a child custody attorney in La Verne CA to help you submit your agreement to a judge, which turns it into an official custody order.
When parents can't decide how to share custody on their own, Family Court Services gets involved. Ideally, the custody order will be reached through mediation, but in very contentious disputes a judge may have to rule on the case and create the order. You can get important information about your legal rights and responsibilities, as well as what factors the court will look at in setting custody and visitation, but consulting a child custody attorney in La Verne CA. Your attorney can help you understand what points to stand firm on and where you may want to compromise.
Keeping Agreements Fair & Relevant
As kids grow and parents' situations change, child custody and visitation arrangements may become outdated. Your child custody attorney in La Verne CA can help you understand when modifications would be appropriate and file the necessary paperwork for you in a timely fashion. Possible changes might include:
Terminating physical custody for a parent that has developed a drug problem
Changing supervised visitation to unsupervised visitation when a previously unfit parent proves they have changed their ways
Responding to one parent's need or desire to move to another state or country
Remember, the guiding principle in any modification will always be to provide the arrangement that is in the best interests of the child.
Why Choose Attorney Howell as Your Child Custody Attorney in La Verne CA
Torrence L. Howell has been practicing family law since 1995, and in that time he has helped countless families successfully navigate the family court system. Whether you need help with a simple modification or are embroiled in a huge custody battle, Attorney Howell will work hard to protect your rights as well as those of your children.
To learn more about how Torrence L. Howell can help you as your child custody attorney in La Verne CA, please call (909) 920-0908 and set up your free initial consultation.